Different Types of Fluorescent Lights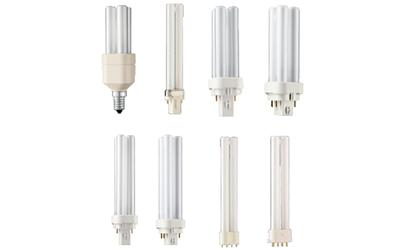 Fluorescent lamps generate more than 70% of all the artificial light in the world but consume only 50% of the energy needed for lighting. Applications include retail displays, refrigeration cabinets, sports halls, food displays, prisons, hotels, restaurants, shopping centres and many other applications.
Fluorescent lamps use 25% - 35% of the energy used by incandescent lamps to provide the same amount of illumination (lamp efficiency of 30 - 110 lumens per watt). They also last about 10 times longer (7 000 - 24 000 hours).
There are a variety of fluorescent lighting types that offer various benefits and can be used for different applications. 
Various types of fluorescent lights
T4
T4 fluorescent tubes are compact and easy to install, making them the ideal way to light-up kitchen counters and worktops.
These tubular bulbs use between six and eight times less energy than incandescent light bulbs, making them a good choice for households looking to cut down on their energy footprint. They're also ideal for businesses that are looking to save money on energy costs. These compact fluorescent tubes last for up to 10 000 hours, so you'll hardly ever have to replace them.
Our T4 fluorescent tubes come in a variety of lengths and wattages.
T5
One of the benefits of the T5 tubes is that it is more efficient than the T8 and is currently used in some commercial locations and throughout Europe.
T8
The T8 tube is in the process of replacing the T12. It has a 1-inch diameter, it is more energy-efficient and it gives off more light than the T12. It is available in a variety of lengths including a 12-inch (13-watt), a 15-inch (14-watt), and an 18-inch (15-watt).
T12
A T12 has a diameter of about 1 and a half inches. This is the most common diameter of tube-shaped light bulbs. It is usually bi-pin and it does not require a starter. It is available in a variety of lengths including a 15-inch (14-watt), an 18-inch (15-watt), a 24-inch (20-watt bulb), as well as a 36-inch and a 48-inch bulb.
Circline
Circle tubes are available in many sizes, but are generally between 6 inches to 16 inches in diameter and will have a 4-pin connector.
U-tube
A U-tube is a tube bent in half to form a "U" shape. A 48-inch bulb is bent into a U-tube bulb that is around 22 - 23 inches long and is brighter than a 23 inches tube bulb.
Most fluorescent light bulbs process energy in the same way to produce light. However, this doesn't mean that all fluorescent lights are the same. The differences are generally defined by the colour and brightness the bulbs emit, the projected length of time the bulb will function, and the diameter and length of the bulb.
There are also some special types of fluorescent lights that are used for specific applications.
Special types of fluorescent light
Grolux: These are plant-grow fluorescents used in a variety of indoor applications. We stock Sylvania T5 and T8.
Butcher: Butcher tubes are used in butcheries and in stores such as Pick n Pays (etc). above the meat section. It is a pink light that shines on the food and then reflects a more reddish colour on the meat which makes it appear healthier and more attractive looking.
Graphica: A very high CRI (colour rendering index) which helps represent colours realistically. Used in the graphics industry, for example, for printing etc.
Biolux: Replicates natural daylight and is great for work areas that need to simulate natural daylight. Countries with low sunlight levels get highly depressed from lack of sunlight which makes these bulbs ideal.
Biolux is also great for animals and raising small animals due to the natural sense of sunlight.
Flameproof: Slightly self-explanatory, flameproof fluorescent light installed in hazardous areas. The design of flameproof fluorescent lighting with its high degree of corrosion resistance is to make them an ideal light fitting to provide hazardous area lighting for indoor or outdoor areas that are exposed to dirt, water, moisture and corrosive conditions.
Black Light Blue (BLB): Blacklight blue produces the popular special effect light that you see at arcades and discos. It makes things with phosphorescent reactive properties glow, white teeth for example.
This type of lighting is also used for leak detection and finding fraudulent money at the banks to mention a few of its uses.
Black Like White (BLW): Black Light bulbs are typically used for bug zappers. When not alight they appear white, when on, they appear electric blue. They attract and dispose of flies keeping your eating space or kitchen bug-free.
Chip Control Yellow: This type of fluorescent lighting is an excellent UV filter, used in microchip fabrication plants. It's used to reduce UV and blue components to a minimum.
There are a variety of fluorescent lights available but it's important to understand the specific use of each light to ensure you're using it to its full capacity. For any additional information on fluorescent lights or other types of lighting, feel free to contact us.
---