LED Mercury Lamphouse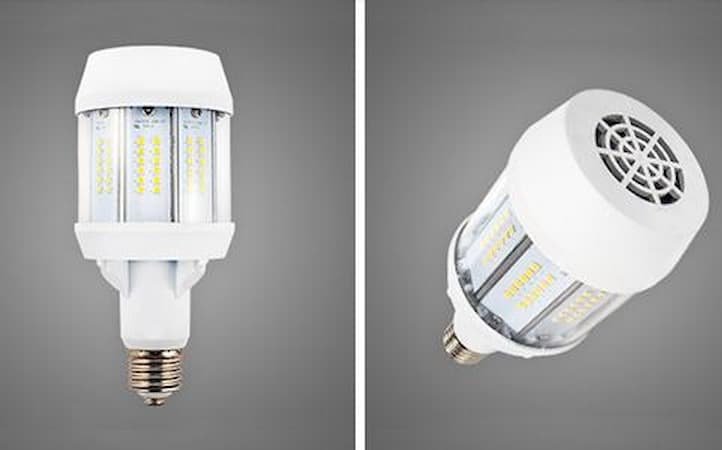 New LED Mercury lamps from GE offer safe, reliable and affordable energy saving alternative to low efficiency 80W and 125W HID Mercury installations. 
LED Mercury lamp provides 2x the life of an average HID Mercury lamp and consumes only 35W to deliver up to 75% less energy saving. With the classic shape and optimized light distribution customers can experience high quality LED solution for their existing fixtures.
The LED Mercury lamps from GE can be operated on 80 or 125W Mercury ballast, thus it enables customers to convert old Mercury fixtures to LED solution without tools or costly upgrade. This LED lamp also can be operated on Mains Voltage, so alternatively it can be installed in a closed HID type fixture with no HID ballast to utilize existing fixtures or to maintain city landscape.
The robust lamp design with E27 base ensures direct retrofitting and easy handle during installation. The 35W LED Mercury lamp has active cooling system inside the lamp to ensure long life for this high power LED lamp, as a result lamp can be used in closed rated fixtures only.
Easy installation
Low cost operation
Colour temperature
Colour rendering
Long life
Environmentally conscious
Easy Installation
Fits into existing HID Mercury E27 sockets without the need for tools or costly upgrades.
Low Cost Operation
Using only 35 watts, this LED Mercury lamp saves 60-75% of energy versus 80W or 125W HID Mercury lamps ( including the system loss of Mercury ballast).
Colour Temperature
Available in 2 colour temperatures: 3000K & 4000K to cover different customer needs.
Colour Rendering
Available with a CRI of 70 to deliver great visual experience.
Long Life
Up to 40,000 hours rated life (L70).
Environmentally Conscious
These lamps are energy efficient, contain no lead or mercury, and are compliant with material restriction requirements of RoHS.
---