Manfrotto's Sky Track System and its Applications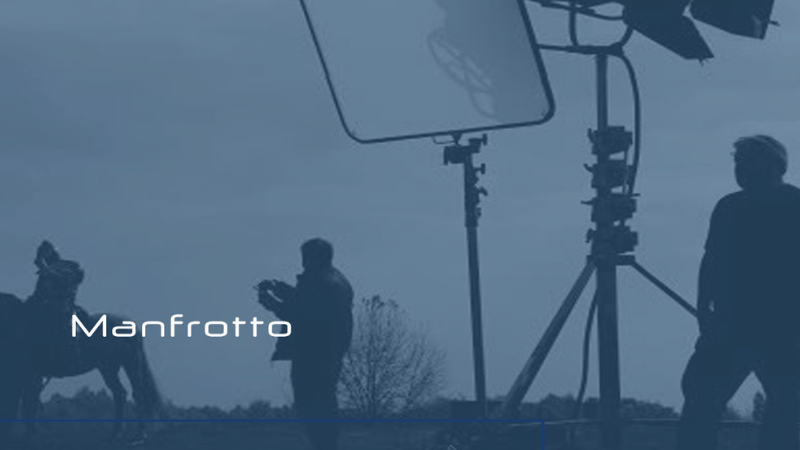 The Sky Track System is one of Manfrotto's most innovative types of studio equipment. This piece of lighting equipment allows you to have complete control over your lighting, shadows and tone of your shoot. This also includes controlling where the light is situated in your studio without having to worry about lighting poles or stands getting in the way of your shot or scene.
We're exploring all you need to know about the legendary Sky Track System and how or where you can use it.
What is the Sky Track System?
The Manfrotto Sky Track Top System is a modular overhead lighting suspension system which can be expanded or modified to your requirements. It provides precise positioning of lights with ease and speed, eliminating the clutter of light stands and power cables on the floor. The system utilises a combination of rails, carriages, telescopic posts and a manual spring/cable or motorised pantographs.
The Sky Track System has various accessories that make the application process, maintenance and use of the system incredibly user-friendly. These accessories include:
Anodised rails

Various brackets suited to your specific requirements

A variety of sliding carriages

Aligning connectors for fixed rails

Cable carriages

Operating poles

Various adapters

Power cables

Extension tubes to name just a few.
Find the full list of accessories as well as their applications here.
Advantages of this studio equipment
The Sky Rack System has an array of advantages that will benefit you. If you have a small studio or complex scene that requires equipment that uses minimal space, this system is ideal. Some of the advantages of the Sky Rack System include: 
The floor is kept clear of power cables and lighting stands.

It solves positioning problems even on complex sets and studios with unusual dimensions.

It permits rapid manoeuvre and setting of suspended large lights or lights with awkwardly sized accessories like softboxes.

Ease of use compared to traditional floor stands.

Has a broad range of accessories that will help adapt your space accordingly to provide perfect compatibility with all types of lights, whether photographic, video or film.

A comprehensive range of lighting suspensions for all situations from small studios to the largest ones.

The Manfrotto line includes the versatile ceiling mounted, rails, manual and motorised pantographs and a wide range of brackets and support.
Applications
The Sky Track System can be used in any way that you deem necessary but these are a few applications or places that will enable you to get the most out of this system.
Small Studios
When space isn't on your side and you're trying to perfect a shoot and deliver high-quality photographic work, the last thing you want to worry about is the lighting.
Trying to position your lighting equipment in a way that it hits where you need it to whilst eliminating poles or cables on set seems like quite the wishlist. This is where the Sky Track System comes in handy. You can easily adjust and manipulate the lighting from the secure rails to ensure that the perfect lighting is used without cables or poles invading your space.
Complex Sets
In some instances, film, video or photography sets have a lot going on. There are people, props and equipment everywhere you turn. This is where one seeks a balance between adequate lighting and minimal chaos.
Just because the set is complex, doesn't mean your lighting systems have to be too. Lighting can make or break a photograph or a film scene which is why the Sky Track is ideal. This system will provide suspended lighting that can be easily adjusted without causing any inconvenience.
Film Sets
Film sets are busy, fast-paced and constantly changing which is why convenient and easily transportable equipment is ideal.
The Sky Track System will ideally be mounted above each set, offering an abundance of lighting without an actual light or stand getting in the way.
Theatres
Production theatres will thrive with the Manfrotto Sky Track System. By using the Sky Track System, you have the ability to perfect the lighting with the audience being oblivious to the intricacies happening behind the scene.
The Sky Track System gives you the ability to adjust and manipulate the lighting to suit each production specifically.
No matter what it is used for, the Sky Track System offers convenience, accessibility and the ability to create custom lighting. For any additional information on this impressive lighting system, please contact us.
You can also browse the rest of our Manfrotto range here.
---