Exploring UV-C Medical Lighting Solutions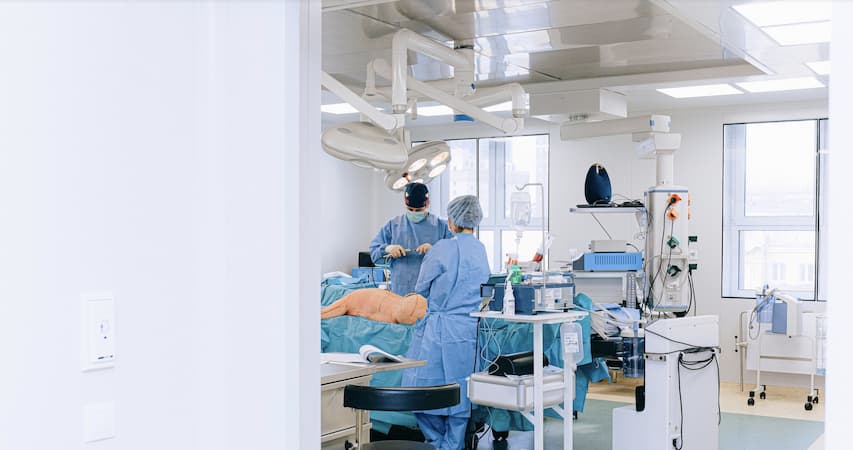 In the wake of the recent Coronavirus pandemic, many industries have had to assess their sanitational practices and hygienic facilities. While various sanitizers, surface disinfectants and alcohol-based cleaners have led the sanitation efforts many have bowed the latest addition to this hyper hygienic product list - Sani UV-C medical lighting solutions.
The Sani Range
Sani UV-C is a local South African brand of UV-C fixtures, supplied by The Lamphouse. These fixtures have been designed to be installed in areas that are common for the spread of microbes. The Sani UV-C brand is recognised in delivering the best possible service to ensure safe installation or use in deactivating pathogens in drinking water, buildings and vehicles; including air and surfaces.
What are UV-C medical lights?
You may be questioning how a mere lighting solution can contribute to a sanitised and hygienic space. However, this specific lighting solution range is one of the most effective methods of sanitation.

These units use ultraviolet (UV) light. The 'C' in the title refers to the type of ultraviolet light - in this case, it is a short wavelength. The light is specifically used to kill or inactivate microorganisms, bacteria, moulds and pathogens. You know, over and above providing efficient illumination.

The Sani germicidal lights work to deactivate the DNA of bacteria, virus and various other pathogens. This destroys their ability to multiply and cause disease. Simply put; these lights completely disrupt the DNA replication process of various harmful bacterias and pathogens.

An added benefit is that this form of technology is a non-chemical approach to disinfection. This range is also inexpensive, effortless and requires very little maintenance.

This specific range continues to dominate various sectors with its applications namely seen in the medical industry has been used extensively in medical facilities and is often coupled with a filtration system for water purification.
The Sani Range and its applications
Ambulance, Paramedic & Transport Vehicles

The Sani 18 Ambulance model has been specifically designed to fit in ambulances and various other transportation vehicles and is connected to the vehicle battery. This unit is to be placed directly above the paramedic's seat in the back to reduce the likelihood of person to person infection.

Furthermore, the Sani 18 unit is able to minimize the contamination between products, drivers and personal during the transport, collection and delivery of products and the handling of people in potentially serious medical conditions.

Applications

Mobile Medical Suites, such as hospital vehicles
Medical Mobile Labs, sample and blood collection vehicles
Transport vehicles for fresh produce and meat
Plant Nursery delivery vehicles
Busses
Air Units
Sani manufactures multiple fixtures that tend to air quality.
The aim of the Sani Intercooler and Duct units is to cool down the warm air found in specific facilities. This is to minimise condensation production in the cooling fins. The air then circulates through these coils and reduces the microbial activity and microorganism build-up approximately every 20 minutes.
This is where the Sani Intercooler and Duct units can help reduce and create healthier air quality. The unit is also available in a ceiling wall mount to aid in the sanitation of surfaces.
Applications
Food and beverage industries
Offices or overcrowded areas
Public Bathrooms
Surface sanitation
Gyms
Ceiling Disks
Each Sani Ceiling Disc UV-C emits at a high UV-C intensity at a distance of 1.3m. This ensures coverage of 36m squared. The unit also boasts a somewhat aesthetic appeal with the unit taking on a white powder coating that sits flush with the ceiling, giving you a clean and minimalist and unobtrusive look in any given space.
Applications
Senior care homes
Newborn hospital wards
Veterinary clinics
Biological labs
Various medical suites
Dentist offices
Food factories
Handheld Surfaces
Surfaces are known to be a breeding ground for microbes, a place of constant contact and space for cross-contamination. In certain cases, however, it is not always safe, practical or even applicable to make use of chemicals or other common methods of disinfecting. The Sani 55w Surface and 95w Handheld are designed with these specific surfaces in mind.
Applications
Hotels
Rehabilitation centres
Beauty salons
Pharmaceuticals
Animal shelters
Mould Inspectors
The recent COVID19 pandemic and its subsequent aftermath have highlighted the power of harmful bacteria, viruses and pathogens to completely disrupt life as we know it. Navigating this unchartered terrain means exploring new avenues and means of sanitation, namely this specific range.
It is also worth mentioning that this range is by no means a cure to the current COVID-19 virus but an additional means of protection for our clients. We, therefore, urge all of our clients to continue to abide by the health and safety measure outlined by healthcare officials. This will contribute to the flattening of the curve and further support those who are on the frontline of this global pandemic.
If you would like to find out more about this specific range and how it can be added to your facilities, make sure to tap here to get in contact with our team.
---