Fluence VYPR Series: Efficiency at your fingertips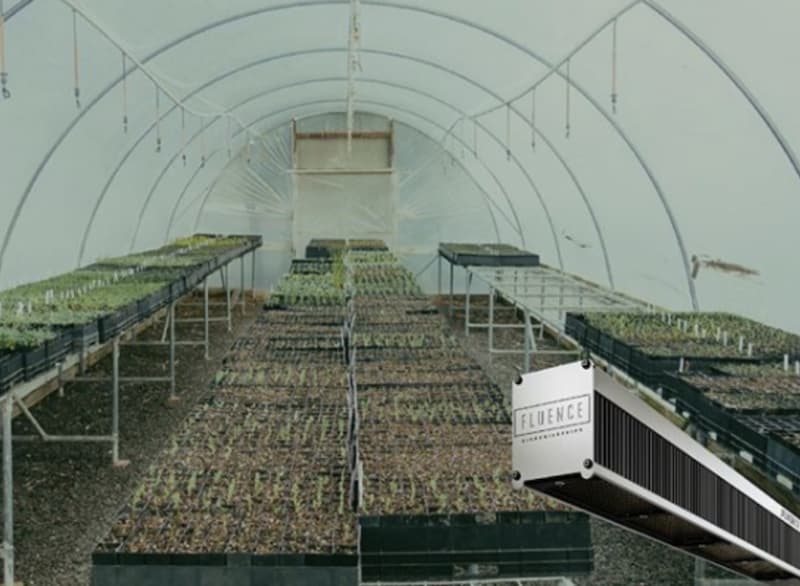 The Lamphouse prides itself on offering our client first-class lighting solutions that showcase master engineering that is backed up by scientific data. The VYPR Series is further proof of this effort.

This LED constant-state energy-efficient Series is designed specifically for controlled environments, namely large scale commercial and agriculture crop growing. This ensures that both you and your company are ahead of industry competitors through your superior product offerings and cultivation practices.

This system is founded on forward-thinking technological innovations, efficient designs and harvest-centred productions. The aim in this regard is to create a system that delivers cutting edge solutions. As of March 2020, Fluence was awarded the Sapphire 2020 award for Horticulture Lighting, solidifying their active role as future innovators in LED lighting solutions.
What is the VYPR Series?
This is a highly specialized full-cycle top downlighting solution that works to mimic natural light. Growers are therefore able to directly control the seasons and ultimately the environment in which their crops grow.

This specific lighting solution was built with year-round production in mind. Not only does this Series grant access to outstanding control and predictability but the success of client harvests. Essentially, you are afforded the opportunity to completely disregard all seasons in order to attain increased crop yields.

The VYPR Series has particularly found its greatest success in the cannabis industry, organic food productions and ornamental growing. These successes are due to the VYPR Series' ability to optimize growing space and year-round productions.
Benefits
Inherent duality: It should be noted that this Series is known for its duality as it serves as a supplemental solution for both greenhouse lighting and/or indoor high-bay lighting. This is particularly relevant in areas where natural light may not be readily available or consistent. This removes grower reliance on temperamental weather patterns.

Award-winning design: Fluence continues to rely on the research, expertise and knowledge of several researchers and scientists. These teams then collaborate with top institutions to ensure that the best plant growth development solutions are established.

Predictability: Unsurprisingly, many growers look to add a sense of predictability to their harvesting patterns. This increases control and accuracy when cultivators can predict their own productional patterns and accurately pre-determine their final harvest.

High energy-efficiency: As a business, finding ways to cut on operational costs without directly compromising on crop quality remains a challenge for most cultivators. This Series changes that! Our LED-installed system allows you to cut on your company's operational costs as this design requires a lower power output.

Holistic crop care: This light system has been designed with your crops in mind. This is reflected in the sound engineered. This system promised to remain gentle and as natural as possible to ensure that natural light is mimicked. As a result, your plants remain happy and healthy.

Easily customisable: The Series has been designed to showcase efficiency, power and control. In order for the system to deliver on this promise, this system has been designed to match its direct environment. This means that you can customise it to adapt to your space or any multi tear growing space.
Additional VYPR Series features
Advanced Shadow-free Design
An ingenious design attribute unique to this product range is the profile and design of the units. Measuring only 2.9" (74mm) wide, this lighting solution minimises any sunlight interruptions or shadows that may cast over the vegetation. The VYPR Series, therefore, allows your crops to benefit from even light exposure.
Easy Installation
The VYPR Series has 3 different mounting hardware options. The addition of PushLock connectors ensures that this unit can easily be installed into several growing environments. This allows cultivators to benefit from simple, quick and efficient installations that are designed to fit into any space.
High-level Power
The VYPR Series is praised for its high-level power which is seen through its broad-spectrum white light that boasts a high efficacy of 2.7 µmol/J. This system's spectral quality alone demonstrates the power of this Series!

Cultivators that make use of this system are also afforded direct and precise control over their Photosynthetic Photon Flux Density (PPFD). This allows our clients the power to measure the number of photons in their visible light spectrum.

Whatever your site requirements, we have the perfect high-efficiency broad-spectrum lighting solution for you. Experience efficiency at your fingertips by tapping here to get in contact with our team.
---