LED Bright Stik Latest Arrival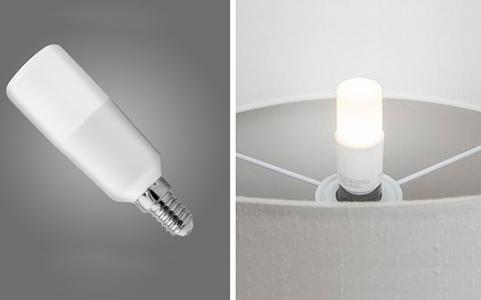 Experience GE's LED Bright Stik illuminate spaces with white light instantly.
Its sleek cylindrical shape fits more sockets than any other bulb before, in place of a 40, 60, 75, 100-watt incandescent, halogen, and CFL. It is an excellent longer life, lower energy alternative to CFL with many additional benefits.
Long Life: 15,000 Hour Rated Life
Wide Range
Low-Cost Operation, Saves Energy
Environmentally Conscious With No Mercury
Colour Rendering
Colour Temperature
GE Quality and Reliability
Long Life
The Bright Stik has a 15,000 hour rated life (L70). It lasts 50% longer than a CFL with its 10,000 hours and lasts 15x longer than an incandescent/halogen (lasting 1,000 hours).
Wide Range
Available in E14, E27 and B22 cap versions to fulfill every need.
Low-Cost Operation
Changing your bulb to the Bright Stik is a quick and easy solution to reduce maintenance costs. It uses up to 80% less energy than an incandescent bulb and up to 20% less energy than a CFL. For example, using only 10 watts of energy saves over 750 kWh in energy over the rated life of a lamp versus a standard 60 watt incandescent lamp. But in the same time it provides similar light output (810 vs. 840 lumens).
It also gives instant full brightness with a 240™ beam angle, it fits more fixtures and it is more durable than a CFL.
Environmentally Conscious
These lamps are energy efficient, contain no lead or mercury, and are compliant with material restriction requirements of RoHS, this allows you to have worry-free use.
Colour Rendering
The GE LED Bright Stik is available with a CRI of 80.
Colour Temperature
The GE LED Bright Stik is available warm white, white and daylight colour temperatures.
GE Quality and Reliability
GE gives you a 3-year limited guarantee.
---