Horticulture Lighting Think Pink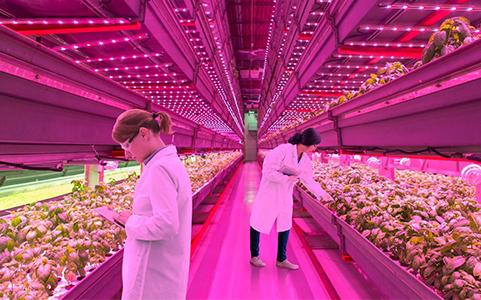 Greenhouses, green facades, indoor greening of commercial buildings, airports and conference centers or urban farming, the opportunities for horticulture lighting systems are expanding from year to year.
As a result, the range of requirements is also increasingly diverse with the specifics for the various fields of application, such as light intensities, wavelengths or color spectra, beam angles, control options and much more. LED-based systems give developers the opportunity to tailor lighting systems to any specific field of application.
Plants require predominantly blue (around 450 nm) and red light (around 660 nm) for their growth. In addition, they have absorption bands for deep red light in the range of 730 nm. By the human eye this combination is perceived as the typical pink aura known from Horticulture Lighting. Artificial light in these wavelengths can be used to promote and control plant growth. Various factors, such as light intensity, quality or duration of the artificial lighting can influence the size, flavor, vitamin content, form, or trigger the plants blossoming.
Accordingly horticulture lighting can be used as supplement lighting to the natural light, in order to enhance photosynthesis and thereby improve growth and quality of plants; as photoperiodic lighting to control the light period and e.g. trigger blossoming or for cultivation without natural light e.g. for Controlled Environment Farming.
LED's do not generate levels of heat like HPS lights which can only be used at a greater distance from plants. As a result, LED based systems can both be used closer to plants in toplighting and also enable new applications such as interlighting and multilayer lighting.
Due to the large number of application options, the exact specification and selection of suitable LEDs for the respective field of application is one of the most challenging tasks for system developers.
Osram Opto Semiconductors has longstanding experience and one of the broadest LED portfolios for horticulture lighting in the market, covering the full color spectrum, mid-power and high-power solutions, a large variety of whites and radiation angles and upgraded efficiency by up to 20 percent. The extremely compact dimensions of the 3.0 mm — 3.0 mm Oslon LED family, for example, enable compact clusters for easy and efficient optics design. New products such as Osconiq P2226 enable high efficiency and homogenous light distribution with a full color portfolio of high quality mid-power LEDs and are ideally suited for multilayer cultivation and vertical farming applications.
Today, LED lighting can stimulate plant growth by up to 40 percent. Durable and long lasting LEDs are also a much more environmentally friendly alternative to standard horticultural lighting. They can significantly stimulate plant growth while drastically reducing energy consumption.
---