LED Panels Downlighters For OR Tambo International Airport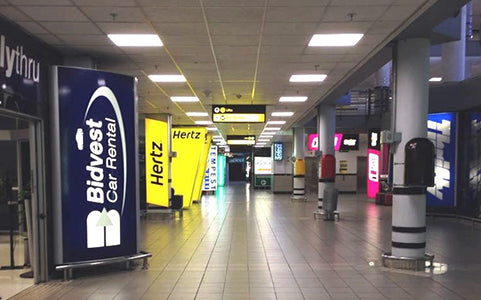 SUMMARY
Name of Institution : OR Tambo International Airport
Project Description : LED Panel Lighting
Products used : LED Backlit 1200x600 panels
LED Backlit 600x600 panels
OptiValu 16W downlighters
Date of project : June 2016
Background : Replacement of existing fluorescent and compact fluorescent fittings
Project co-ordinators : ACSA appointed electrical team
Project Developer : Airports Company South Africa
OBJECTIVE AND SOLUTION
| Airports Company requested proposals for LED lighting in certain sections of OR Tambo airport to reduce power usage and maintenance costs.
| Areas chosen were areas that had existing fluorescent 4x36W T8 tubes and 2x26W compact fluorescent downlighters.
| Being an international airport lux levels had to meet strict requirements as well as longevity being a 24-hour operation.
| The existing fluorescent and CFL fittings were replaced with LED panels and downlighters.
| Samples were provided and the LED 85W and 40W panels were chosen in selected areas.
| For existing downlighters the 16W LED Optivalu downlighters were approved based on light outputs and warranties provided.
| Colour temperatures of 4000K were used to standardise with existing fixtures.
| The project was completed on time and within budget.
| | | |
| --- | --- | --- |
| | Estimated Annual Energy Usage (kWh) | Annual CO2 (metric tons) |
| Before project estimated usage on fluorescents | 459,352 | 473.13 |
| After project with installation of LED fittings | 183,600 | 189.11 |
---